Last Updated on February 8, 2021 by Sarwar
Do you want Better rankings for your Blog or Want to Rank High on the Search Engines.
Here are the Best On-Page SEO Checklist and Techniques for Blog – 2021. You should use it to Explode your Rankings to another level.
If you just starting with blogging this 2021. You should must these Best On-page SEO Checklist and Latest SEO techniques to acquire your space on the search engine or Google.
But Before Starting with the best techniques for SEO let us first some of the basic terms which will help you get a depth understanding of the terms discussed over here.
What is On-Page SEO?
The Meaning of On-Page SEO is in its name only as On-page Search Engine Optimization. It is the method of optimizing your content practicing some SEO techniques and making it proper to rank on the search engine.
There are mainly three types of SEO:
1. On-Page SEO
2. Off-Page SEO
3. Technical SEO
Only optimizing your content for On-Page SEO will nevermore let you rank high on search engines. You should also have the knowledge to optimize your site according to Technical SEO and Off-Page SEO strategy to Rank on Top Pages of Search Engines.
So, Lets Get Stated with our On-Page SEO Checklist and Latest SEO Techniques for Blog
Focus on Long-Tail Keywords
This is the most important SEO Hack and Main part of the On-Page SEO Checklist as We all know the competition in the Blogging and SEO field has grown a lot and to avoid this competition and acquire some space on Search Engine as a New Blogger you can use Long-Tai Keywords.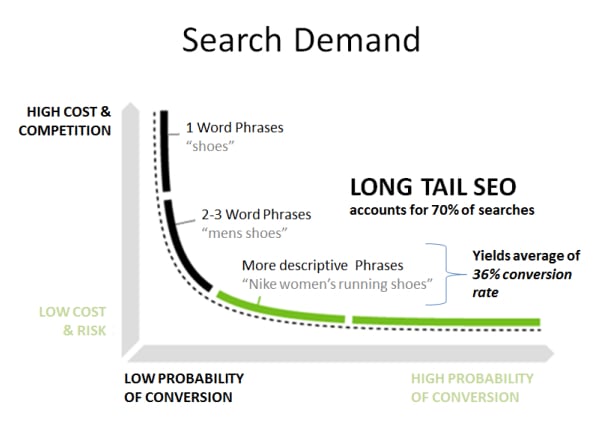 Now, Let me first clear the concept for Long-Tail Keywords. Basically, these types of keywords are 3-4 words. These types of the keyword are highly targeted and are also known as conversion keyword.
How can I find long-tail keyword for free
Finding Long-Tail Keyword is pretty simple just you have to follow some steps to achieve some of the most converting keywords.
Google Search Bar Suggestion
It is the Best Tool provided by Google to research long-tail keywords and Easy to use. Just type the focus keyword on which the article is to be written using the arrow buttons to scroll up to the New Long-Tail keyword ideas from Google.
Google Search Related
If you are running an affiliate site related to shoes then you can target the best long-tail converting keywords from the Google Search Related because Google show these terms here because these are searched most on the Search Engine.
It is very simple to use just you have to type a focus keyword on the search engine and scroll to the bottom to see the magic.
If you want to know about more methods to research converting long-tail keywords check this out 5 Awesome Long Tail Keyword Research Hacks that will Explode out your Rankings
Include your Focus Keyword in the URL
Including your focus keyword in the URL. Making your URL Search Engine Friendly is so simple just you have to follow these steps to acheive your Goal URL.
Your URL Should Look Natural
This is one of the common mistakes all new bloggers make while writing a blog post. Building a Good URL is not just keyword stuffing. If you want to make a Good Working URL then keep it SHORT-SIMPLE-SUITABLE according to your Blog.
Here are some Examples of the Working URL's in Niche: "Men Fashion Trends"
Add the Focus Keyword in URL
Make sure your focus keyword in Present in the URL. Adding the Focus keyword in the URL gives a signal to Google to understand your blog niche and blog topic.
Keep the URL SHORT AND SIMPLE
Keeping the URL Simple and Short make it easy for the User and Search Engine to understand the type of content provided by you.
This is one of the best techniques for SEO which most people are neglecting.
Use Internal Links – King of On-Page SEO Checklist
Do you know? How you can rank on Google without even a single backlink. The only way for this problem is to build good strategical internal links.
Now Here I know that you have Got confused that What do you mean by Strategical Internal Links.
So, Let us first know more deeply about Internal links.
What do you mean by Internal Linking?
Linking the articles and documents from one page through relevant queries and sources on the same domain name is called Internal link building.
What do you mean by Strategical Internal Linking?
Building of Links on a Article with a complete strategy from a page to another page of domain is called Strategical Internal Linking.
Here are the 5-Simple steps to build a Good Internal Linking Strategy for your site
Create tons of Content on your blog
If you want to create lots of internal links on your blog then it is very important to have tons of blog posts on your blog. This will help you to build a good looking and valuable article.
Because, If you are building tons of content on your blog then you'll have more resources on your blog to link up and provide more relevant information to your audience.
Now If you are not confident How to create a working blog post this 2021 then you can check this article out.
Use Anchor Text
What do you mean by Anchor Text? Anchor Text is the clickable linked text on the article which helps the search engine and users to understand the recommendation provided in your article.
If you want to know more about the use and importance of Anchor Text, Check this article out discussion of link building.
Try to Link Deeper
The more you link deeper the easy it will be to rank your blog on the search engines. The links that you should avoid in your content are linking to the top-navigation menu such as Home Page and Contact us Page.
If you want to know more about the page linking strategy then check this article out Silo Structure for SEO
Link Naturally
Why we are doing internal linking in our blog post. There are mainly two reasons for that building an authority blog and Make users aware of some more useful articles. As we all know How Internal Linking is The King of the On-Page SEO Checklist. But, If you are not performing the right activites then It may also harm your Internal Linking Strategy.
Use Relevant Blog post to Link
After Following the all above steps to build your internal linking strategy. Here comes the most important part of the whole Internal Linking Process.
Let's take an example before starting with it. If you are running a blog about Keto Recipes and you have written a Blog Post about "Top 10 Keto Recipes that you should use this month" In that, you have provided an Internal Link about the "Top 10 Smoothies to lose your weight easily" on your blog and linked it to another page on your blog.
Then what will be the consequences for that let us discuss below.
Your Blog will look spammy and un-maintained
The bounce rate will get increased
Trust factor for your blog will be decreased
Search Engine Ranking will get decreased
Optimize your Title and Meta Description
This is one of the most important tips from the on-page SEO checklist. Because this is the first view from one person on your results. But, The Question is How you can make your title and meta description effective for more CTR (Click Through Rate).
Here are some methods that can help you to optimize your title and meta description to the best
Observe your Competitors
This method is pretty simple to use and apply because this only need a random search about your niche topic or focus keyword. You can get really working Titles and Meta Description using this method.
Here is a Quick Step guide to implement and get stunning Titles and Meta Description.
Use Google Ads to Generate Amazing Converting Headlines
This is one of best seo technique of my on-page SEO Checklist because It is Really simple to use here is an Quick process to generate amazing headlines from Google.
Sign-Up on Google Ads.
Add a Budget of Rs. 100 to start and activate your account
Create a Campaign and as DEMO
After filling in all the important information just procced to Ad's Step
Enter all the Targeted and Focus Keyword as in the Image Above
Google will Automatically generate lots of Titles and Meta Description by its AI Technology
Write content above 600 Words.
I know that quality content matters but If you also rank on the top of the search engines with the 500 Words keyword the session-duration of your post will be get decreased because It is really to read a 500 words article in just 1 minute.
It also helps to defeat our competitors by providing more valuable content to our audience as the screenshot shows below the words of the article ranking on the Top of Google.
These are the Top 7 Results from the Google Search Engine and after analyzing the content we find that
Top 3 Results are around 5000-6000 Words
If you want to rank on the position around 4-7 then you can create an article around 2500 Words.
Like this, you can analyze and create content for your blog that works the best on the search engine If possible also check the way they all write their article.
Chrome Extension used to count the words from the SERP is Keyword SURFER
Use Keyword in the First 10% of your Article.
It is one of the best practices in this on-page SEO checklist that you should always remember before writing an article on your blog because It is believed by many experts that Google gives more weightage to the first 10% of your article. Hence, It is also told that your Introduction should be powerful.
Good use of LSI Keywords and Synonyms

What do you mean by LSI Keywords?
LSI Keywords stands for Latent Semantic Indexing and It is the most important step that you should prefer on the on-page of your site. It supports you to put on the keyword that is semantically associated with your primary keyword.
How do LSI Keywords work and How you can use them too?
The Search Engine Google uses a Technology called LSI to index web-pages. If you are practicing LSI Keywords or synonyms related to your focus keyword for the article later It will be easier for you to rank on the top of the search engines.
Examples for LSI keywords on Keyword: Keto Recipes.
Keto Diet Plan
Keto Diet Weight Loss
Keto Diet Food List
Keto Diet Plan for Men
If you want to know How you can find good LSI keywords for Free for your Blog Check this Article.
Use Quality External Links
It is the Best and Easy SEO Technique for easy rankings on Search Engines. Linking to High Authority sites on the Internet Helps Google to understand an Indirect vote for the blog. Make sure to Link out 6-9 Authority sites from your Blog.
This also helps Google understand that the content is well-managed and trustworthy.
Optimize Images on the Blog
It is one of the easy practice that one can do for his blog for easy rankings. Adding good ALT Text and Name to the Images helps the Search Engine to Identify the type of image and help to boost the rankings on Google. Here is a Screenshot shows traffic from Images on the Blog.
Use your keywords in H1, H2, and H3 Tags
This is one of the most important parts of my on-page SEO checklist because H1, H2, and H3 tags play a very important role in indexing your site in search engines but, How you can use them to rank in the top searches.
Finding Good H1, H2, and H3 is really simple and easy just you have to open the Google Search Engine and Search your Focus Keyword.
Scroll to "People also Ask" Tab
Here you can find all the best working questions and topics that are being searched in the search engine at high volume.
Conclusion
I would like to wind-up my article here and If you are just started with blogging make sure you should follow this on-page SEO Checklist then Seo Checklist will help you to build up a good authority of your blog and derive Good Traffic to It.
But, At Last If you have followed all the techniques mentioned in this on-page SEO Checklist and The Quality of your content is poor then It will be impossible for your to rank on the search engine because as We all Know Content is the King.
Here are some most valuable articles which will help you to rank easily on search engines.
I am a blogger by the day and an affiliate marketer at the night. Basically, I love this profession currently, I am handling 7 blogs and most of them are getting consistent international traffic with good revenue…