Last Updated on October 20, 2021 by Sarwar
If you just started with a blog then Onpage SEO is the main priority that you should focus upon and It is very simple there are only some criteria that you should check on your blog posts while writing it That's It but before learning about SEO criteria you should firstly know How to do Keyword Research. Read this Article till Last to know about Keyword Research in detailed
In this article, I am going to talk about the 5 Awesome Long Tail Keyword Research Hacks that will explode your rankings
---
How to use long-tail keywords?
Long Tail Keywords are straightforward to implement just follow up the steps mentioned in this article, and after that, you will have sufficient knowledge to rank high, But What matters is your content relevancy.
If your Content is relevant you can rank easily in just around 10-15 Days on a defined Long Tail Keyword Research for a specific topic. If you don't know How to Write High-Quality Content Check the Article to know more about it…
Do Long Tail Keywords Still Work?
Yes, Long Tail Keywords still work awesome because The long your keyword will be the more filtered results you will get and It works more amazingly for Affiliate Marketers as they get a filtered audience for their affiliate products and If you are just starting blogging as a beginner then you should target long-tail keyword because It is easy to rank and It will help to build Authority of your website to rank higher.
---
What are long-tail keywords
Long Tail Keywords are Big Phrases and Sentences Which help to sort the specified topic easily and help your audience to reach easy and more detailed search results.
There are essentially three types of keywords: Short Tail Keyword, Medium Tail Keyword, and Long Tail Keyword. The shorter the keyword will be the more topics It will cover and the longer the keyword will be it will only cover a specific topic of a seed keyword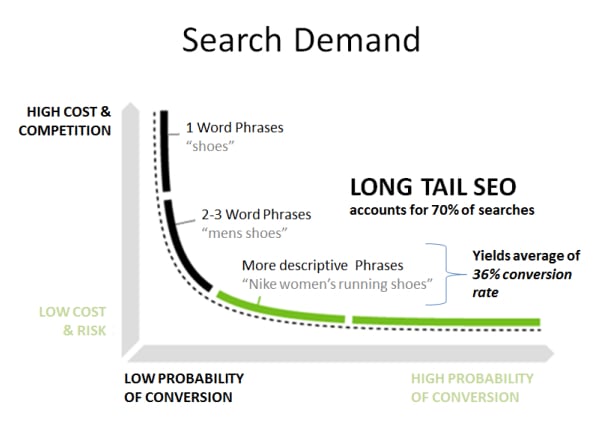 Why are Long Tail Keywords important for marketers?
Long Tail Keywords are important for marketers because It increases the chances of the product or service conversion as shown above in the image. Because Long the keyword will cover the specific part of a topic. This helps the user to get the best results and you get rewarded from purchase or conversion for an Example:
If you are promoting "Keto Diet" as It is a very broad topic and, If you use the Long-tail keyword then you can target your audience like this "Best Keto Recipes" more specific for sales or conversion "Keto Diet Plan for Easy weight loss"
Long Tail Keyword vs Short Tail Keyword
Short Tail Keyword consist of 2-3 Words also It covers a wide area of topic and talking about Long Tail Keyword It only covers a specific part of Short Tail Keyword, Which helps to rank fast for that search term.
If you have created an affiliate or drop shipping site then the long-tail keyword will be the best keyword for conversion as It covers a specific part of the Short Tail Keyword whereas If you target Short Tail Keyword for an Affiliate Site or Dropshipping site then The Conversion Rate will decrease as It is not targeted for a specific topic term because It covers the wide point for the same.
5 Awesome Long Tail Keyword Research Hacks
Let's Now start with the 5 Awesome Long Tail Keywords Hacks that you should apply If you are just starting with a new site or blog or If you already have a running site…
Google Search Suggest
This is an Amazing SEO Tool Provided by Google Itself but It requires some time to research keywords. If you are having a Seed Keyword then type on Google Search Bar and Press "Space" and you'll get a variety of Long Tail Keyword suggestions Which you can easily include in your Website as a question, Answer, or If required in Paragraph.
For Example, you can study the Image above "How did the Kansas city r" and then after a space bar, Google Displays the Best and most searched Long Tail Keyword around this Seed Keyword.
And, If I want to add the fourth result in my article then I can add It as a Question to get ranked for more keywords
Searches Related to Searched Query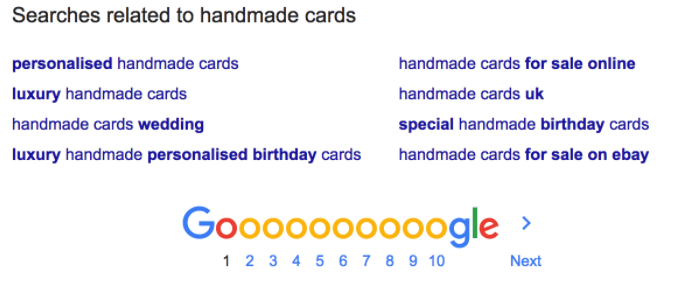 These Keywords can be found at the bottom of your search-related query. This query is generated by the users, Who are searching for the listed query on a great volume, and Google Algorithm stores it for the users to provide them more relevant results for their query and provide the most reliable results.
And, We can take advantage of this feature for our blog or website as they all are long-tail keywords that are pre-researched by google. We have to only research the Traffic and Keyword Difficulty data and We can use them in our blog for really impressive results.
How to use google search related?
Google Search Related is very simple and straightforward to use It simply needs some time that's all. Now How you can search for great long-tail keywords for your blog, Here is the Solution.
1. Check for a Seed Keyword according to your niche
If you know your niche taking as an example: If your niche is "Weight Loss" and you are creating a blog on "How to lose tummy fat easily" Then, How to lose tummy fat will be your seed keyword. It is that's simple
2. Check Google Search Related
After you got your seed keyword, It's time to search for it, and After searching that keyword scroll to the bottom and Check the suggestion suggested by Google. But It is not over yet after getting the suggestion you should click on the results. Which get's something suitable for your blogpost
3. In-depth Google Search Related Search
After Clicking on the Relevant Google Search related terms, Scroll Down to the bottom and you'll find more In-depth searches which Low Search Volume with Low Difficulty but All the Traffic are almost targeted there and you can use those for Affiliate marketing, Drop Shipping, or for any sales or services and It will boost up your conversions
PRO TIP's
If you are facing difficulties in finding the Long or Medium Tail Keywords or having less time for doing these all complicated searches then I have one Best Free Tool for Keyword Research for you, Which is Keyword Everywhere Extension. You can use this Extension to save your time and get more comprehensive and Best Keyword Ideas for your Blog
Soovle: The Best Long-tail Keyword Generator for FREE
As you all know keyword research is required everywhere on this online business platform, If you are writing a blog post for Google, Yahoo, and Bing or Listing up a product on Amazon, eBay, Aliexpress Etc…
And If you go for a short tail or medium tail keyword as a beginner that you will be absolutely crushed up by your competitor as they have now build up authority and trust on the platform.
So, What If you want to rank on a keyword and get traffic to just give your articles a push to rank and build up authority
Now here Long-tail keywords can help you a lot because It is the only way to rank on Google as a beginner If you are not having tons of backlinks on your site. And, Not only you'll get some traffic you will get some sales also on your product because as we talked above long keywords are highly targeted
Soovle is an excellent long-tail keyword generator tool for free. It not only provides keywords related to Google but also helps you to find keywords for Amazon, Bing, Yahoo, Wikipedia, Answer, and Absolutely Google.
It is very easy to use It is just plug and play type process you can check the image attached above. We have to only just write the query or seed keyword and after that, you'll get plenty of results for that specific seed keyword.
AnswerthePublic.com
Basically, AnswerthePublic.com is not any type of keyword researching tool or generator. It is just a question-finding site for bloggers But It is very much profitable for good bloggers.
As, If you want to merge up some FAQ's in your article then you can use this Answerthepublic.com for finding very reliable and impressive questions for your blog to give your blog a traffic boost
AnswerthePublic.com only provides 3 attempts to review a query in a free plan. But If you are a beginner and knowing your seed keyword then these 3 attempts are enough for you to get a very detailed long keyword with the best reliable and impressive questions
How to use the Answerthepublic tool?
It is very simple to use Answerthepublic free tool. If you want to develop your article with impressive questions then after visiting Answerthepublic.com. Here is How you can use Answerthepublic.com in just these 3 simple steps:
1. Type the Seed Keyword or Key Topic on The Search Bar in the Homepage
2. Scroll Down and after that, you'll get varieties of options to take into use such as Questions, Prepositions, and Comparisons. You can use these all for making your content more reliable and trustworthy
3. After finding that data you can export that all data and compare it to find out the best working questions that will work on your blog easily.
Google Keyword Planner
It is one of the best and excellent free tools for bloggers to create high-quality content and get outstanding keywords to rank.
As per my review, It is a Keyword Ideas Stealer. Let's See How you can use this Google Keyword Planner to rank up your site or blog easily…
We have nothing to do with this "Start with Keywords" Area as It is very helpful for bloggers but We are going to steal up the ranking bloggers Low competition keyword from Just Right Section "Start with a Website"
After loading up with your competitor site. A page same as this will open up in your browser image attached below…
Now here are many things to get explored such as you can also change the fitters above to switch it for your preferred Country, Language, Search Networks, and Data to be shown.
Yuppy! Here we just retrieved out all Long, Short, and Medium Tail Keywords, and Now you can Check these keywords on Low or Medium competition for which your competitor is ranking for and What is working great for him and What If will happen If you'll try for those.
This Google Keyword Planner tool comprises all data such as Avg. monthly searches, Ad Impression share, Top page of Bid (Low Range), Top page of Bid (High Range), and most importantly Completion
Frequently Asked Question (FAQ)
What are some Long Tail Keyword Examples?
There are many examples that can be provided in many different niches but for Example, I am just providing some examples related to the Weight Loss Niche as We have discussed above with the help of a weight loss niche example.
Some Long Tail Keyword Examples on Niche: Weight Loss from yoga
"yoga for weight loss at home for females"
"yoga weight loss stories"
"yoga to lose weight in 10 days"
"yoga for weight loss before and after"
"yoga for weight loss with pictures"
"best yoga for weight loss"
"half-hour yoga for weight loss"
"yoga for upper body weight loss"
Do Long Tail Keywords Still Work?
Yes, Long Tail Keywords works still Now and It will work till 2-5 Years because most of the reputed blogs are getting ranked with the help of long keywords only and If you also want to rank on Google Fast then I will recommend you to go for long and medium tail keywords
How to find long-tail keywords for Free?
We have only provided the Freeways to rank with long-tail keywords you can follow up all the 5 Hacks which are mentioned above to get the best targeted and Low Competition Keywords Quickly.
How to use long-tail keywords?
Nobody on the Internet can teach you How to implement Long, Short, and Medium Tail Keywords because It is your task to create the content and think about where the keywords should be inserted. But, Be careful your keywords should be naturally inserted and your content should look helpful If your content looks spammy after your keywords stuffing then you can also be penalized by google
5 Best long-tail keyword research tool for free
I am handling multiple new blogs nowadays and making them rank on the top pages with the help of long tail keywords. And, Till Now I have never used a paid application for research of those keywords. Here are some best long tail keyword research tools that you can use to research those phrases and pairs of words to get targeted traffic and conversions.
1. Quora
2. UberSuggest
3. YouTube and Related Searches
4. GSC (Google Search Console)
5. Keyword Hitter
End Words
Thanks for your attention. If you are new to blogging then you should apply these Free Blogging Keywords Generation hacks to get more targeted traffic in Low competition.
Just Follow up the steps above and you can rank without backlinks easily on low competition and low volume topics and Let me know in the comment section Which Topic I should bring to the next article If you found something helpful from this article. Thank You…
I am a blogger by the day and an affiliate marketer at the night. Basically, I love this profession currently, I am handling 7 blogs and most of them are getting consistent international traffic with good revenue…