Last Updated on October 20, 2021 by Sarwar
Creating content for blogs is not as hard as It seems. Hey Everyone, In this blog, we are going to discuss the 8 simplistic tips to create content for blog easily in just no time, If you are giving these tips your 100% effort.
Now Lets firstly discuss How to write a blog, Writing a blog needs a format and a mindset according to your niche. Here I am listing up some best practices and tips that you should remember before writing an article for your blog
Here are 8 Simple Steps to Create Article for your Blog Easily
Know your audience and Choose a Relevant Topic
This is one of the most important steps which everyone should follow before writing their content as I have seen many of the blogger or article writers that research the Topic and about Its Search Volume and Traffic and start writing.
As Per my knowledge, you should also research about your audience that If they are really interested in the type of article which you are writing or maybe You have to write more informational content
If you want to know about your audience then you should check Forums, Youtube Video (Reviews and Comments), Check Facebook Groups (These are some of the Latest working Tips and Hacks to know What your audience really want.
Here are my 2 personal ways that I implement to research my audience and also I get some most frequently asked questions and topics to write an article on…
Use Quora
Quora is an amazing platform to search for Content Ideas, Questions, and Answer Related to that. It is a Completely Free Platform and You can Create your Account there to Research Amazing Content Ideas. Let me Show you How?
That's all these are the short and informational tips that I can provide you in this blog as this blog is on to How to create content for blog but We have discussed Blog Content-Format. I will surely bring up a comprehensive researched blog on "Detailed format of Article Writing"
Search your Niche or Seed Keyword and Hit Enter on your Keyboard. As you can see in the image above that I have picked up a niche "Weight Loss" and After Just Searching about weight loss Press ENTER
After Pressing Enter Button you will find varieties of questions asked by the community members of Quora and there are many questions to explore out as the image below contains many questions about weight loss you can also combine up them to form a Blog Topic. I have created up a list How I basically create content ideas using quora with relevant answers.
How to create Blog Ideas using Quora?
Here you have to apply some common sense and some hacks while making content and content ideas using quora. Here are some of my hacks Which I personally use to generate content and Articles Ideas from Quora.
1. Analyse at least 10 Relative questions on quora
2. Merge up all the Questions to form quora to create a High Trend Working Question – Check Topic Trends using Google Trends

3. And If you want to write content about the specific topic in that article then you can browse that question answer in quora to know more about that specific topic
Explore Reddit.com on a specific topic
Reddit is a huge community, It will help you to discuss your niche topics. If you are working as a blogger or content writer then you should check reddit.com to know compressively about your niche and content
Let me share the screenshot to know How you can use Reddit for Blogging purposes.
Here I have done a Seed Keyword research as "Weight Loss" and after a couple of minutes, I can find some of the questions and topics to create a blog upon.
Let me give you a Hack you should always focus on the Question and Blog Topic, Which is getting more upvotes and likes such as In these 3 Questions the 1st question "A gallon of water a day… Does it really work?"
There are many ways to research topics and content on Reddit but you have to give time during research to get the best ideas and topics for your blog and join into as many groups as you can in your niche to get updated with the most asked and trending Topics
Take Time to Research about the TOPIC and Create a Detailed Outline
This is a most remarkable topic, Which I am going to talk about in this article many of the people neglect to do Research about the Topic and Start writing articles and Then they can't provide that accurate and same satisfaction to the consumers that other blogs are providing.
Here I am displaying the essential terms that you should remember while writing an article
Use Google DOCS to Create a Rough Sketch
This process can also be done with WordPress Post Draft. But I personally recommend and use Google Docs instead of WordPress Draft Due to many reasons and some of the reasons are mentioned below.
Easy Formatting: Google docs is very easy to mark up important points and add comments to the documents. Let's take an Example If you are writing a blog and you have decided that the Long tail keywords should be marked with Green and Short tail keywords should be marked with yellow then you can easily mark them in Headlines, Paragraphs, and Add Comments also…
Voice Typing: This tool will only help you when your speaking skills are good then, There is one more benefit of using Voice Typing. If you also handle a youtube channel then you can use this Voice typing Tool to create a rough sketch for your blog in form of words. Personally, I use this Voice typing Tool a Lot you can use It too by accessing Google DOCS > Tools Menu. Shortcut Key (CTRL+SHIFT+S)
Translate Documents: I basically research foreign blogs about my topic to get more information about that topic then this tool helps me a lot while gathering informations after translating them into my favorable language as HINDI or ENGLISH. Which help me a lot to create content for blog
Do Research from Foreign Blogs
This is my personal favorite method of getting great content ideas because researching the same topic from different countries' blogs provides you some extra information that other blogs don't provide. Which helps you to beat your competitor easily.
And you can use Google Translate to identify the content and write it on your blog with more perfections. Which will help to create content for the blog easily
Pro Tips

If you got something amazing from some foreign blogs and you are not getting the exact feeling after writing it in your own words then you can use Google Translate to translate them into English and use It for plagiarism free
So these two are ways are some of my favorite ways to researching content for my blog and after doing content research you should always do keywords and most importantly long-tail keywords research. If you are new to this field
Must Read: 5 Awesome Long Tail Keyword Research Hacks that will Explode out your Rankings
Take Help of Quora
As we all know Quora is an online forum to discuss almost all topics worldwide. There are many people globally who keep their views on a certain topic. Now the point is, How you can take the Help of Quora to generate or create content for the blog.
It is very simple to create content with the help of Quora. Just after applying all the steps mentioned above, you should do a random search on the "SEED Keyword" on the Blog Topic on Which you are going to write the Blog
There you can find different types of questions with answers. Read 5-10 answers for a specific question and after that, you can start creating a rough sketch for your blog on Google DOCS
Think to Write an Unbeatable attracting Headline
Write an unbeatable attracting headline for your blog as It is not possible for all your blog posts but at least try to write a fabulous headline to boost up your CTR. Here are some of the tips that you should always follow to write a converting headline.
Add Emotional and Power Words: Using Power and Emotional Words in your headline helps make the user comfortable and excited to know something new from the blog and Using these two words will skyrocket your conversions Examples for Emotional and Power words are…

Emotional Words: Easily, Quickly, Free, Because, Easy, Today, Huge, Never Etc…
Power Words: Breaking, Amazing, Better, Mind-Blowing, Absolute, Authority Etc…
Add CTA in your Blogpost: After creating the content for the blog you should know How to use that content to gain conversions or make the person feel interested in your product. CTA(Call to Action) helps you in that all process If you have a perfect CTA on your blog post or site that It will really convert like a pro. But After creating a CTA you need to study some of the Best Working CTA – 2020

OfficeVibe
DropBox
Evernote
Square
Prezi
Full Bundle
Etc…
Word count for your Headline: It is always recommended that your headline should be at least 7-8 Words Long. If your Headline is around 12-13 words then As per My review, It has more user attraction in the Search Engine.
Use Headings and Sub-Headings
Using Heading and Sub-Headings in your articles makes your article more relevant and more user-friendly. If you creating a blog post then you can use a sub-heading to cover the sub-category topics and a heading for the main topic for which the blog is getting written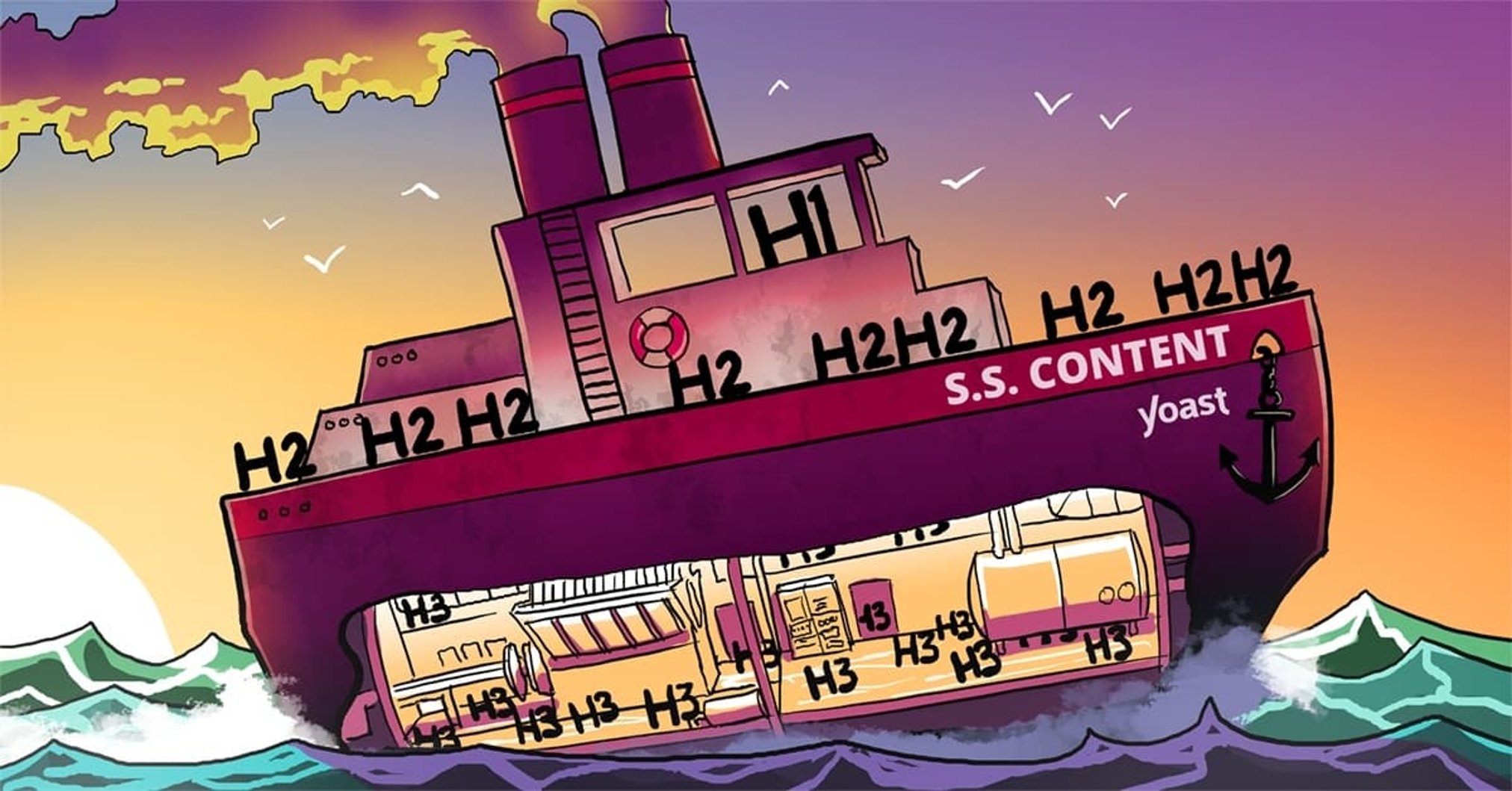 This Image is from Yoast.com. If you deeply see this image this full ship is built with all the tags such as <H1>, <H2>, <H3>, <H4>, <H5>, <H6> combined in series from top to bottom that's why the ship is looking in a structured way. If you also want that your website should be structured then use all headings and sub-headings in your blog post.
It makes your blog looks more informational and relevant and The Topics get easily discovered
Choose Killer Images and Animations and Optimize them
Choosing Images and Animations is one of the most important tasks to complete while creating content for a blog, But some of the bloggers do a simple search on the blog and Use the FREE Images present on the Google Searches.
Animations are one of the great ways to hook your audience as per my personal blogging review. Keep the AIM to create an Animation that can control your audience's emotions and works more on the psychology of the person. You can use CANVA to create animations great thumbnails and featured images for FREE (Personally Recommended)
As for your information, The images that are already used by other persons and ranking on the search term that you have searched. So, Don't use the images that are already ranking for another website blog
You can use some of the Free Sites that provide Amazing Free Stock Images and Videos, Some of them are Listed Below
After choosing Great Images for your site you need to compress them up, because people want your site to get load faster and If your website or blog's images are not compressed then It will slow down your website.
Which may provide bad experiences to users It can also degrade your Google Search Ranking Due to bounce rate.
As per my recommendations, You can use EWWW Image Optimizer. Which I personally use for compressing my image which gives me awesome results in maintaining my website speed. And, there are many other FREE Alternatives also such as IMAGIFY, Smrush and many more…
Improve Readability
If you want that the User you enter your site through Search Engine Reads your blog then you need to make It Easy to read.
Yes, I am talking about Improving Readability is one of the most important factors that we all should be focusing upon because If your content contains longer paragraphs and common words then the user will feel like boring and will return back to another site.
Here are some of the tips that you should be focusing upon to improve your article readability.
Use Short Paragraphs in your Blog (Around 30-40 Words) more words will make your paragraphs longer and increase your bounce rate
Improve your Voice Tone If you want to get an awesome voice tone in your blog posts then think and write that you are talking to your friends on a matter and the franker the article will be the more users will like to read the article.
Ask Question to User in Between to Hook and Hold them on your site This is one of the most essential tips that you should be knowing about because striking a question in users mind will help your blog to generate more attraction in your posts
Keyword Research is Queen
If Keyword Research is Queen that Who is the King? Content/Article is King. Keyword Research is not too hard but It needs the practice to find awesome keywords.
If you don't know OFF-PAGE SEO and know only Some ON-PAGE SEO Terms and Keyword Research then you can easily rank on specific terms on Search Engine.
Here I will only share some ways to keywords research because I have already created an Article on Keyword Research Read Now.
Use Google Search Recommendations
Google Search Recommendations are one of the great ways to find long-tail keywords. These Search Recommendations are provided by Google to serve better results to their audience. Here is an example "How to use Google Search Recommendations"
While Searching "How did the Kansas City r" automatically google suggested lots of results regarding the Search term "How did the Kansas City". So, If you are building an article related to Kansas city then you can use these search terms in form of Questions or can stuff it where necessary.
Use Google Keyword Planner
Google Keyword Planner is a fabulous tool provided by Google While managing Google Ads to find Great Keyword to get more conversions. But, The awesome thing about this Keyword Researching tool is that It is absolutely FREE and you can use It too. You can create a FREE Account from Just Go fill the form and signup
This tool is very easy to use. I also use this tool to rank my blog easily but you should know How to use Google Keyword Planner Tool Easily.
It has two options "Start with Keywords" and "Start with a Website". If you have done research about the articles and you know some of the great articles, Which are already ranking in this Topic then you can use that Website Keyword from "Start with a Website" to rank your Blog also…
If you found the most working keyword in your topic and want to get more relevant keywords according to that then you can use the "Start with Keywords" option to get more relevant keywords in that topic.
For Example after Searching about Weight Loss, I found some keywords Which are working awesome in this Weight Loss niche with some long-tail keywords also Which are Easy to target and rank on such as "Foods that help you to lose weight". You can similarly use the same process While finding Keywords for your Niche and Topics.
Before Applying these keywords in your blog, here are the 3 Golden Rules Which I follow Easily rank on a specific topics If you are a beginner.
Use Long Tail and Medium Tail Keywords
Use Keywords with Low VOL and Low Competition to get Easy conversions
Give Keyword Research time upto 1/2 hours and Find Relevant Keywords for your niche
Use Infographics and Case Studies
Infographics and Case Studies help you get more backlinks and make your users and audience spend more time on your blog because It was found in research that Infographics and Case Studies are liked by the user to read.
And If you are using Good Infographics and Case Studies in your blog then you can easily get quality backlinks from reputed blogs for absolutely free because of your great research of Case Studies and Infographics.
Creating Infographics is very simple. Just research about the Topics on Which you want to create Infographics then After Researching you can use CANVA to build awesome Infographics because there are lots of templates That will help you create them easily.
Conclusion
In this Article, We Learnt How to create content for blogs easily within just 8 Simple Steps. If you will follow these all 8 Steps to create your content then definitely will rank easily. But, Yes Remember one thing that After doing Lots of ON-PAGE and OFF-PAGE SEO. If your content and keyword research are not good then you can't rank on the Search Engine.
That's Why it is told that Content is King and Keyword Research is Queen.
Thanks for your precious time. Have a Great Day 🙂
I am a blogger by the day and an affiliate marketer at the night. Basically, I love this profession currently, I am handling 7 blogs and most of them are getting consistent international traffic with good revenue…