Last Updated on June 16, 2021 by Sarwar
Marketing is the most essential task in order to get leads and sales. No matter how smartly you create your product or service, If you don't have a good and trustable audience then it will be really difficult for you to grow your business.
In this article, I will list 7+ Free Digital Marketing Tools for Small businesses that can help you increase your online growth and make good revenue out of it.
How can free digital marketing tools help your small business?
The free digital marketing tools can help you build good graphics, increase your engagement rate, improve email marketing. Basically, there are thousands of tools to manage your small business using digital marketing but they are paid. The listed tools are free and are comparatively same as the paid ones.
Free digital marketing tools for small businesses.
Grammarly
Grammarly is a great AI-powered writing assistant. If you are someone who is not confident with your writing styles and grammar. It is a tool that can help your proofread your articles, emails, and documents.
Grammarly detects all types of mistakes and improvement steps such as Grammar and Punctuations, Spell Check, Plagiarism, Writing tones. Personally, I am using this tool for the last 3 years and It really won my heart.
Who can use Grammarly Tool?
Everyone can use Grammarly and Its free version is more than enough for a student or a beginner writer. The listed people should definitely use Grammarly to deliver a quality article or document.
Students and Beginner Writers
Bloggers
Digital Marketers
Article or Content Writers
Business Professionals
Teacher for detecting tones, mistakes, and plagiarism
Anyone who writes English frequently
Talking about the cost and pricing, It is absolutely free but If you are a branded company or professional then you should check Grammarly Premium. Otherwise, you are free to use Grammarly FREE with good features lifetime without hidden charges.
Canva
Canva is an amazing platform designed for producing amazing graphics. It has thousands of custom templates and stock images. And, The best part about this platform is that If you don't a penny of knowledge about Graphics designing then also you can create outstanding graphics for your business.
Personally, I am using Canva for the last 2 years for online marketing of my business and I have learnt that Graphics play a very important role in building and managing quality of your brand.
Talking about Its pricing, It is absolutely free to use but If you want access to the premium features you can also get that If you felt requirements of over 4Lakhs Templates, 75+ million stock images, video, audio, graphics, and many more…
AWeber
If you are familiar with digital or email marketing then you might know this tool. Aweber is an excellent tool for email marketing and automation emails with a free landing page builder built-in. They are having a very user-friendly panel to execute the emails and landing pages.
Aweber is also having free Web Push Notification features which help bloggers and digital marketers to build a good instant reacting audience and drive good traffic to their site.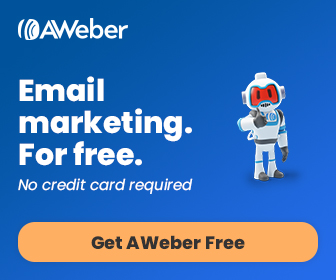 Talking about Its Pricing, It is absolutely free upto 500 mails and after that mark, you have to subscribe to its PRO plan. Don't worry 500 mails are enough for you to get started with your business management. But, If you are a professional or businessman then you should obviously go for the PRO plan.
HubSpot CRM
HubSpot CRM is a package of all software that you need for your business. This package includes tools for marketing, sales, customer service, operations, and content management. It is one of the powerful digital marketing tools for small businesses.
HubSpot helps all sizes of companies to track, nurture leads, and analyze business metrics. Using this HubSpot CRM software you can track customer interactions automatically using social media, emails, live chat, phone calls, etc…
Talking about its pricing, It is absolutely free with limited features. If you want access to more features of this platform you can take 14-Days Free Trial.
Ingramer
If you want to grow on Instagram and build a good loyal audience then this tool can help you out. I am personally using this tool for the generation of hashtags and analyzing profiles for the last 2 years.
Ingramer is a marketing toolkit for Instagram, Using this platform you can easily target your right audience, generate hashtags for extra growth, schedule posts, analyze profiles, and many more.
Ingramer is not absolutely free but, It provides some trials of their tool per day. you can buy this tool If you want to grow on Instagram fast. Personally, I am using the free version of this tool for hashtag generation and analyzing my competitor's profiles.
Google Analytics
Google Analytics is a tool used to track website activity such as pages per session, bounce rate, audience behavior, pages per session, etc… And, also helps you to get an idea about the source of your traffic and along with the proper informations.
Along with Google Analytics, you can use Google Search Console a Free Digital marketing tool for small to big businesses for managing the SERP data and search queries to get indexed on Google fast and drive good traffic to your site.
Talking about Pricing, Google Analytics is an absolutely free tool by google to manage website statistics and data. No hidden charges.
KeywordHitter
I am a blogger by profession and this tool really helps me to generate endless content ideas and keywords for my article to rank on. If you are someone who wants content ideas for their YouTube or Blogging platform then this tool might be proved perfect for you.
If you are unable to buy any expensive keyword research tool then you can use this KeywordHitter. You can also use some internet marketing tools for keyword research alternate to KeywordHitter.
KeywordEverywhere
Google Keyword Planner
WordStream's Keyword Tool
Soovle
SEMrush
SEMrush is a platform that provides solutions for SEO, PPC, Content Management, Social Media Marketing, Competitive Research, etc… This tool helps you increase your online search engine visibility through SEO and Marketing.
According to my personal experience, I found SEMrush a very valuable tool in case of placing my articles on the top of the SERP.
Talking about the Pricing of SEMrush, It is a paid tool. But, there are a 7 Days Free Trial. If you are serious with your online business then 7 days are enough for you to research data about your blog posts and pages. Ultimately, you are smart enough to make a good decision in these 7 days.
Now we are done with our free digital marketing tools for small businesses. But, As promised above in this article we are also going to discuss some of the secret free internet marketing tools that you can use for your business to a skyrocketing growth.
10 Secret Free Internet marketing tools for small and big business
Don't Forget me to Thanks in the Comment Section of this Article.
Conclusion
Thanks for your Patience, If you have read this entire article till last. I hope that you got some value throughout. Make sure to give every tool at least a try for your business. If you want to grow your online business and make good revenue out of it. Then here are some articles, Which can help you out.
Hello everyone Sarwar here, I am a blogger by the day and affiliate marketer at the night. Basically, I love this profession currently, I am handling 7 blogs and most of them are getting consistent international traffic with good revenue. This is my main blog (Aqubyte) and I have just started blogging on it to help you guys to build some awesome income through the hole of the internet and addon new skills to your life.